The Amazing Ride- Group Activity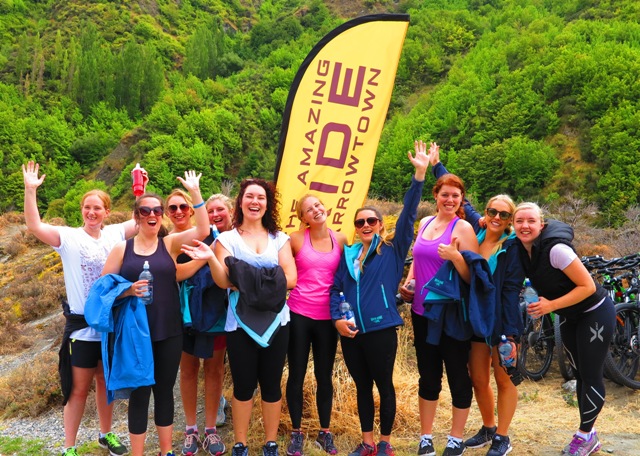 This is a fantastic ride for small or large groups with their own transport. Idea for tour groups passing through Arrowtown who are looking for a fun activity to get clients 'off the bus' for a while. We have designed this activity with groups in mind and provide full health and safety, bike trail and bicycle instruction.
After a comprehensive pre ride briefing at our Arrowtown base riders set off along the spectacular Arrow River Bridges Trail. Following this fantastic cycle trail you meander beside two rivers, cross amazing bridges, pass historic cottages and bike through scenic farmland with mountain views until you arrive at the historic Kawarau Bridge build in 1880. Take time to view the bungy jumpers as they leap into thin air. Arrowtown Bike Hire then collects the bikes. Clients make their own way from the Bungy Bridge.
Ride distance 12 kilometers. Ride time approximately 1 - 2 hours.

Allow 3 hours to complete the activity.
Don't panic if
you run out of puff during your ride, we will discuss pickup locations should
you need our Riders Rescue Shuttle!


Our
bikes are designed so riders of all skill levels can enjoy an adventure in the
great outdoors. Adult, youth and 24" bikes have light alloy frames to
create the perfect platform for riders to enjoy a scenic ride. A range of sizes
ensure your ride to be a relaxed and comfortable day out.

Bike
sizes range from xtra small (14 inch) up to xtra Large (23

inch) frames.
Get in touch if you have special requirements or questions to ask about our group products.